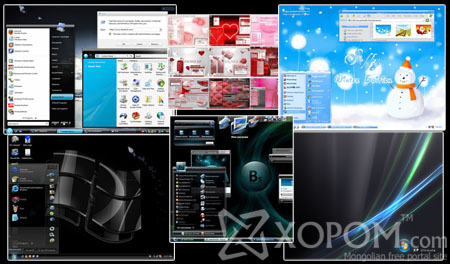 WindowBlinds таны Windows Desktop-ийг єєрчилж цоо шинэ мэдрэмжийг тєрvvлж чадах ба тєрєл бvрийн загвар, стиль, єнгє дизайн бvхий 63 ширхэг Theme-ийн цуглуулгаас сонголтоо хийх єргєн боломжийг танд олгож байна. Та єєрт таалагдсан загвараа сонгосноор таны Windows-ийн title bar, push button, Start bar, menu болон бусад олон зvйлсийн єнгє, хийц загвараас авахуулаад бvхий л зvйлс єєрчлєгдєж танд єєрчлєлт, шинэчлэлт болон єнгєлєг байдлыг мэдрvvлэх болно.
Niitde 63 bga shu uurihtere hergelj uzeh gsen chin zalhuu hured uzegui ajilah bho Xopom iih chin gagui naidvartai sht. Zuvluj helhed Mediafire aas tatarai hurdan bas sain share(server).
Themes List:
01-WhiteChristmas
02-KnotVista
03-iFlex
04-Glass MaxX
05-DogmaX
06-Arrow
07-A Touch of Glass
08-A Touch Of Glass 2
09-XPGlass
10-Alien Tech
11-alienmindII
12-Alpha OS
13-Aquarium
14-Arrow
15-ArtWork
16-Avalon Nanosis Vista
17-Espirit
18-exPool
19-GT3 OS
20-h2so4 Standard
21-Houston Rockets
22-iFlex
23-iGlass2SEv1.1
24-ivory
25-Joy To The World
26-K-TEKsteel
27-Lamina Blue
28-LaSTCobaltV12c
29-leather_box

30............